A sales representative for eClinicalWorks stopped in the EHR Scope offices today to preview some new technology.  Apparently, through remote connectivity, eClinicalWorks EHR is controllable by an iPad.  After seeing the demonstration, I was pleasantly surprised to see how well everything worked. 
The iPad could be taken throughout our offices and still communicate with the host computer.  This type of tablet setup reduces the processing power required if one was to run some of the larger EHR applications within the iPad itself.  Also, in this example, the physical input data is transmitted directly back to a client architecture.  The implications could include running a practice, off of multiple tablets, using either web-based access or installed software on existing terminals.  Thus, a primary caregiver could walk into an area where the terminal is located, with their iPad, and log in to use it as is seen in the video below.   While as of current this would take massive coordination, it is one possible projection.
When everyone gets their EHR up and running, they may want elements of a similar system in their practice.  Here is an example the rep posted on youtube.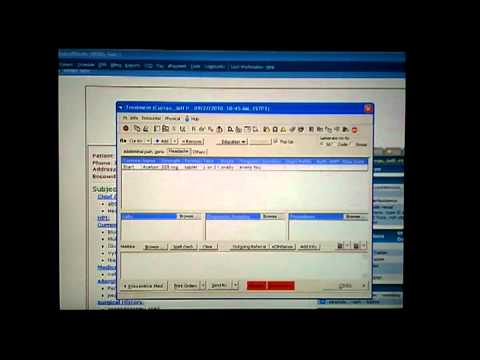 The speech recognition software used is Dragon Medical 10.  By utilizing a Bluetooth, or other Dragon Medical compatible wireless headset; combined with the iPad, a physician can walk around their workplace uninterrupted.  This is of course taking place within the range of a client terminal. It must be noted, however, that it is of the utmost necessity, that the wireless headset be used in reasonable proximity of the host terminal to which it is installed.  Given this issue, signal amplification should be able to easily extend the aforementioned range.
If you read our previous blog about the importance of EHR systems working alongside physicians, this example moves closer to an adaptive situation.
What do you think? Viewer participation and comments  are always welcome…